The Audioengine 2 (A2) speakers warrant praise. Small size, high end sound, and affordable price point make them the perfect addition to your computer desk or media center. The team at Audioengine put a lot of thought into the design and engineering to make these speakers and it's really paid off.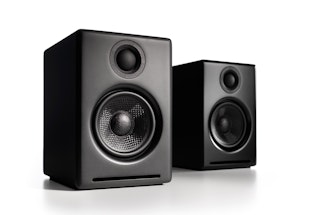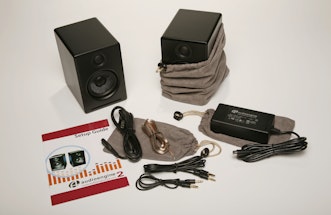 The A2s use kevlar woven glass-aramid 2.5" woofers and silk 20mm tweeters. The various electrical components - amplifier, magnets, transformers, drivers, etc, are all custom made to Audioengine's specifications; no off the shelf parts here. All this is housed in a painted, hand polished MDF cabinet.
Audio Engine's attention to detail doesn't stop at the speakers. Velvet string-drawn bags wrap each speaker (also making a great carrying bag!) and another two are provided for the cables. Portable and powerful bring amazing sound to your games, parties, movies, music and more with the A2s!