Description:
To quote Betabrand, "After years of experimentation and one enormous bill at our local particle accelerator, the fashion physicists at Betabrand have finally combined business-suit and hoodie molecules at the subatomic level.
The result: our new, limited-edition Navy Executive Pinstripe Hoodie, a revolutionary business-casual (or casual-business, if you prefer) breakthrough, made right here in San Francisco.
This garment is crafted from 100% superfine merino wool, the same exquisite fabric found in fancy-schmancy tailored suits. So exquisite, in fact, the Spanish used to execute anyone who tried to export it. Thank goodness they eventually lightened up.
In addition to that wonderful wool, our hoodie features luxurious tie-cloth lining, comfy ribbed cotton cuffs, and a pair of roomy front pockets."
Build Quality:
Not only are the materials in this hoodie great, its got build quality to match. These are all hand stitched in San Francisco California. The seam work is fantastic, as good as any suit we've seen. You can join this massdrop knowing you're supporting a company that keeps its jobs in America.
Size Information: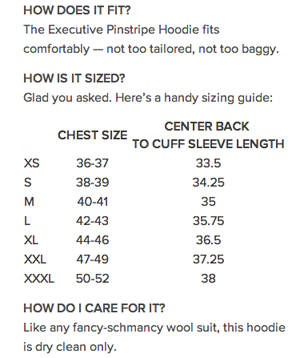 We picked up a sample unit for reference. One of our engineers is 6'2" and around 195lbs. The medium fits like it was made for him. Hopefully that helps.
Why can't I see the price?
Massdrop
helps you
buy as a group
to get the best prices on the things you want.
As a result, products we sell have a substantial discount which we are forbidden from displaying publicly. Keeping our site private allows us to negotiate more effectively with vendors on your behalf.