Even though everybody loves nature's herbs (how could you not?), the side effects of traditional consumption are too great to be ignored. Your friends are into dabs and concentrates, which cut out the tar and condense the active ingredients, but you aren't particularly fond of any process that requires a blowtorch. Well bud, we've got just the solution for you: the DabJoy Electric Ti Nail Package.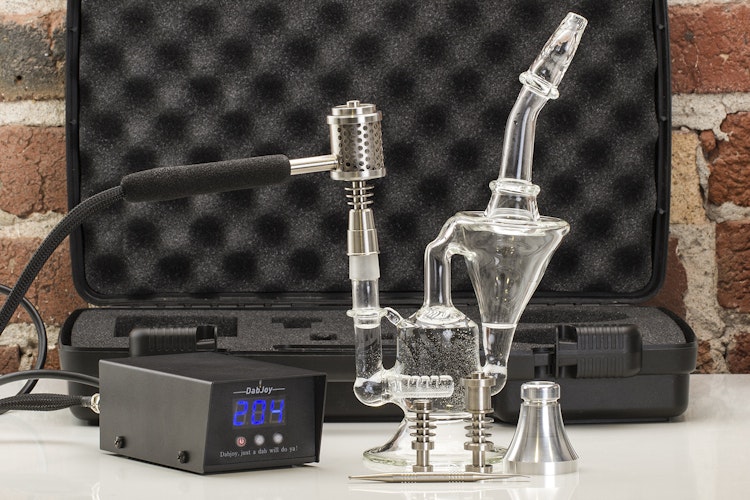 Harold and Kumar Go to the Future
The basis for any dabbing rig is a heating element placed in the female of a waterpipe. Usually heated by a butane torch, once you've reached optimal temperature, you throw on a glass dome, drizzle down some concentrate, and take your hit. The DabJoy works much the same way, with two important distinctions: no dome and no torch.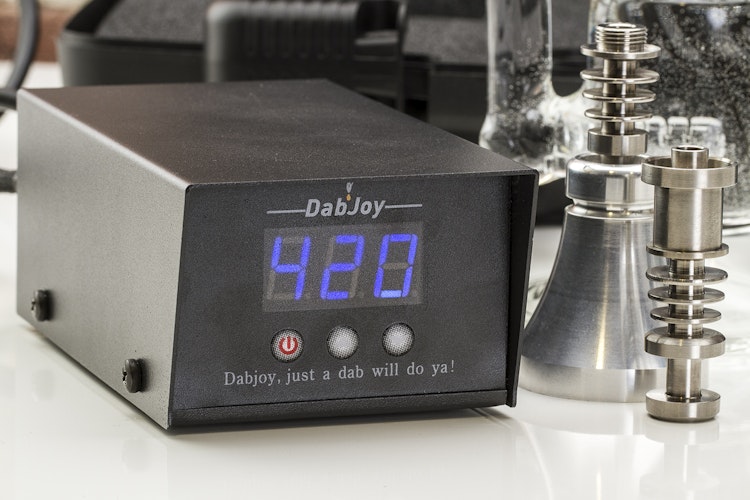 Get Fired Up Without the Flame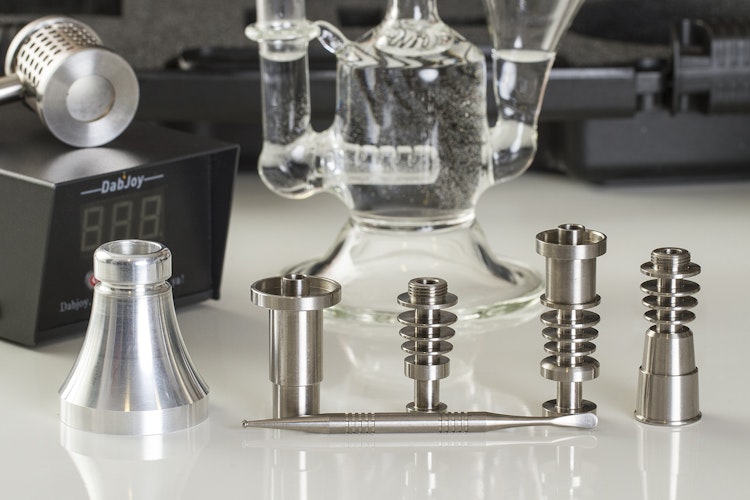 DabJoy jettisoned the dome by engineering the Vapor Channel through the center of the Solid titanium nail, this allows the vapor to naturally flow down through the pipe instead of requiring a shepherd. As for the lack of flame, ceramic heating elements form the core of the nail itself. Additionally, the DabJoy is engineered and designed to utilize either a 14mm, 18mm or a 14/18mm female adapter to give you optimal flexibility with your glass products. The DabJoy Electric Ti Nail is easily plugged into the Dabjoy digital controller through a flexible 60" cable to help prevent tipping your glass products and enhancing your dabbing experience. Depending on your voltage requirements, customers can choose between the 120V and 240V options during the checkout process.
Sprinkling in even more safety, the Digital Controller will automatically shut down after a period of time just in case you forget to turn it off. Ti Nail includes 14mm, 18mm and a 14/18mm Female that provides the flexibility with your glass products and with the option to use Butane, the DabJoy is unsurpassed with safety and flexibility. Simple to operate, extremely durable, and as customizable as you need, the DabJoy Electric Ti Nail Package gives you the best aspects of Dabbing while sparing you the worst part of the preparation.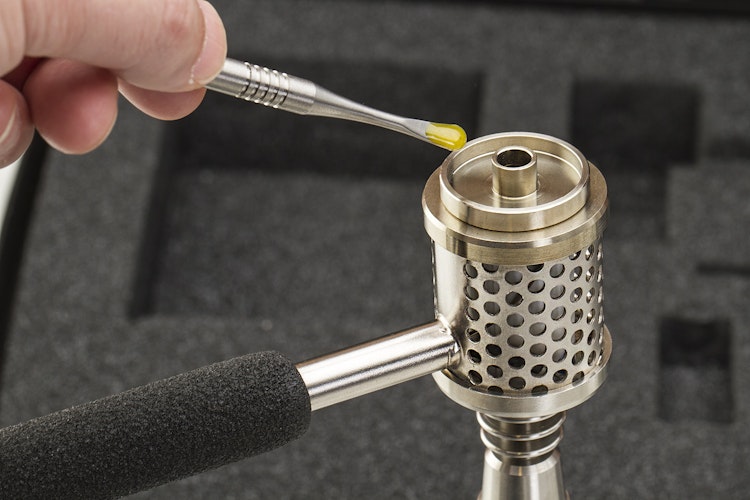 Made in the USA
120V for US
240V for Overseas
Made with Grade 2 Titanium
Temperature range from 392°F to 840°F (200°C - 450°C)
Electric Domeless Ti Nail with 4 attachments:

14mm Glass Adapter
18mm Glass Adapter
14/18mm Female Cup Adapter
Torch Cap (For added flexibility with Butane)

DabJoy Digital Controller
60" (152.4 cm) flex cable with Military Style Connectors
DabJoy Ti Dabbing Tool
Travel Case
Conveniently built in handle for safety and control
Domestic and international orders will be shipped by Massdrop.
Estimated time until product ships: 10 business days after the drop end date. p>
Why can't I see the price?
Massdrop
helps you
buy as a group
to get the best prices on the things you want.
As a result, products we sell have a substantial discount which we are forbidden from displaying publicly. Keeping our site private allows us to negotiate more effectively with vendors on your behalf.