Suggested by localredhead in the poll: Safety Razor
Description:
This is a group buy for the Edwin Jagger DE89lbl Shaving Razor. Edwin Jagger machines all of their pieces in Sheffield, England. After the machining process is finished they polish the chrome for 50 hours (as opposed to the industry standard of 5-10). This process ensures the finish on your razor will look brand new tomorrow, next week, next month, and next year. The closed comb head moves the soap and shaved hair out of the way so you can keep shaving without interruption. The lined pattern detail enhances this well-balanced double edge safety razor by providing superior aesthetics and grip. The engineered head on this razor cuts at an optimal angle to reduce ingrown hairs and razor burn.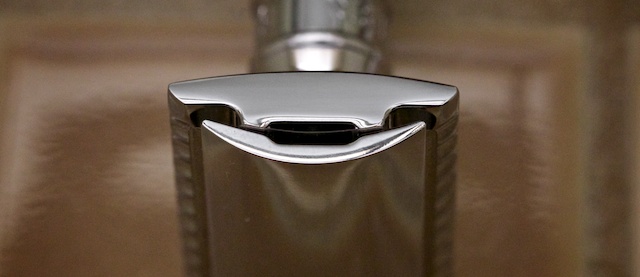 Features:
Weighted body to keep your shave steady during long strokes
Perfectly balanced to help you control the razor
Optimal blade angle means a great shave with minimal effort
Vented shave head means soap and hair wont clog the razor half way through a stroke
Polished chrome on machined brass construction means this razor will last a lifetime
Comes with a five pack of Derby Double Edge Razors
But why bother to wet shave at all?
Wet shaving has two major advantages over cartridge based shaving systems:
1. Lower Costs
How much do you spend on replacement blades? It is common to spend $20 to $30 on each pack of replacement blades in a cartridge system. Those packs generally have between five and eight replacements in them. Doing some quick math, that's about $3.50 per razor head and each of those lasts about a week.
Replacement razors in a double edge shaving system are much cheaper in comparison. Right now, you can pickup 100 high quality replacement blades for $8 on Amazon. That's $0.08 per razor. Each of those lasts you about 2-3 shaves so assuming you shave six days a week, you're looking at a significantly lower cost of ~$0.24 per week in razors.
A year supply of double edge razors costs you about $12. Total cost is less than a tenth of what you would pay using a cartridge system.
2. Less skin irritation
Think about the number of razors scraping your skin every time you shave with a multiblade system. Another layer of skin is shaved off for each blade in your cartridge. This produces acne and irritation-inducing micro cuts in the skin of your face. Having one fixed razor means one layer per pass and a close shave with limited irritation.
Most multibladed cartridges on the market today use a process called hysteresis whereby the first blade 'pulls' the whisker up so the root is exposed and then subsequent blades cuts it below the skin line. The hair root then retracts underneath the skin and often grows back in unpredictable ways. This leads to ingrown hairs and other forms of skin irritation.
Wet shaving gets as close as you can get without having to cut below the skin line, greatly decreasing the likelihood of ingrown hairs and leading to an overall healthier shave.
Here's a tutorial video if you want to see the DE89 in action:
Wait Times:
These razors are in high demand and short supply, especially during the holiday season. We can't guarantee these will arrive in time for the holidays as the wait time could be up to 5 weeks.
Why can't I see the price?
Massdrop
helps you
buy as a group
to get the best prices on the things you want.
As a result, products we sell have a substantial discount which we are forbidden from displaying publicly. Keeping our site private allows us to negotiate more effectively with vendors on your behalf.