Suggested by Will in the poll: Ergo Dox - Do you want a full or partial kit?
This is a Massdrop group buy for the ErgoDox Ergonomic Mechanical Keyboard Kit! This kit is the result of over a year of work by a dedicated group of keyboard enthusiasts. Each keyboard kit has 14 separate components, over 160 individual items, two custom built parts, and plenty of potential for modding. This is a DIY kit so you will have to do the assembly yourself. Dont let that scare you off, weve got a step by step build guide right
here
. Here are some of the benefits this keyboard has to offer.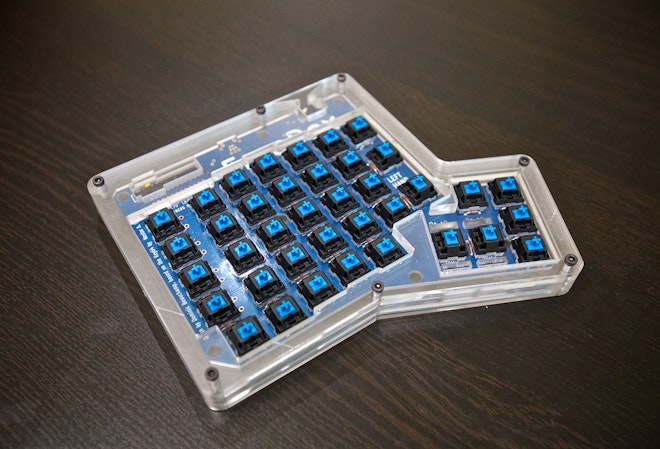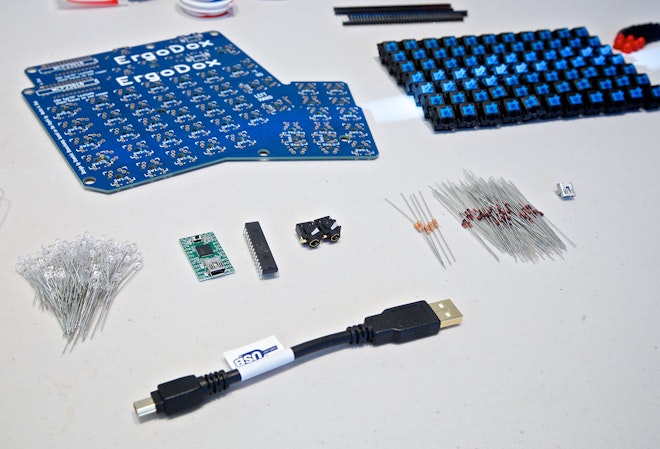 The electronic components are exactly what dox had in mind, no cheap substitutes. The clear acrylic cases are custom cut by a machine shop near our office in Palo Alto, California. The PCB is custom made to the spec bpiphany wrote up when building his units. Two layer, custom printed with instructions and outlines, the high quality blue silkscreened PCB will make you glad your case is clear.
Here is a full list of the components (including extras) so you know what to expect when you open the box:
2 x PCB 10 x Acrylic case Plates (see this image for layer ordering)
1 x Teensy USB Board, Version 2
1 x MCP23018 I/O expander
2 x 3.5mm TRRS connector
1 x USB mini B plug
1 x 0.1uF ceramic capacitor
78 x 1N4148 diode (through-hole) or 1N4148W-7-F diode (surface-mount)
2 x 2.2k ohm resistor
3 x 3mm T1 LED 3 x 220 ohm resistor
78 x Cherry MX switch
2 x USB cable Male A to male mini B
1 x TRRS cable 14 (16 for Full cases)
14 x Case screws/nuts (M3)
Ergonomic keyboards are designed to minimize muscle strain and a host of related problems. This keyboard uses a split design that allows your arms to rest naturally at your sides instead of forcing them into a cramped position close to your body. The two foot long connecting cable allows for a variety of configurations and it's an easy to find a replacement if you want a longer version for more extreme setups.
In addition to superior positioning, the keys on the ErgoDox are arranged to limit the amount of hand movement required while typing. Think of how silly it is that both of your thumbs are relegated to the space bar, the ErgoDox dedicated the right thumb to space dedicating the left thumb to backspace and delete. This way you don't have to move your entire hand when you need to delete a character and your normal space bar habits remain unaffected. This is just the tip of the iceberg. With the screw based case construction you can experiment with different slants to find what position works best for you. In addition to slant customization, you can also fully customize the keyboard layout and reprogram the teensy board (uses Arduino software) to make the keys trigger whatever functions you desire. This keyboard may take a little learning but once you've got it down, you can perfectly tailor it to meet your needs. Ergonomics and keyboard layout design by dox.
This keyboard is setup to use the Cherry MX mechanical key switches. These switches are well known for their extremely long lifetime (20-50 million key presses) and superior response times. The switches are mounted to a plate layer rather than directly to the PCB. This is done to reduce stress on the PCB and prolong the life of your keyboard. As a result, the keys are rigidly secured in place producing a more solid aesthetic and feel. Cherry MX Switches don't need to be pressed down all the way in order to register a key stroke. This means you can type faster with less fatigue. There are five types of switches available for the ErgoDox. The three most important criteria when determining which switch type is right for you are:
Actuation force, the amount of force required to depress the key
Linear vs. tactile, linear switches move up and down in a single continuous motion where tactile switches have a small amount of resistance just before the point of actuation
Clicky vs. normal, clicky switches make a noise when you hit the actuation point versus the normal keys which only make noise when they come into contact with the plate
Type: Linear Switch Tactile: No Clicky: No Actuation Force: 60g (40g-80g overall) Key Travel: 2mm to actuation, 4mm to bottom Cherry MX-Black switches are linear (non-tactile) switches, these are considered one of the best switch types for gaming. When gaming, having a tactile bump does absolutely nothing because you're going to be bottoming out anyway. So these give you a very smooth feel. The actuation and release points are at the exact same position as well. So games that require a lot of double tapping become easier than on any other keyswitch. However, most people don't enjoy typing on them that much do in part, to their linear nature. If you're a person who tends to hit a wrong key every so often while gaming, these will be beneficial in that the high actuation force will help prevent many of those accidental presses.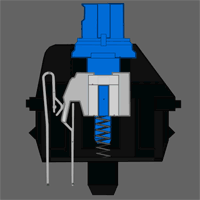 Type: Tactile & Clicky Switch Tactile: Yes, precise Clicky: Yes Actuation Force: 50g (60g Peak Force) Cherry MX Blue switches are the best cherry switch for typing. The tactile bump can easily be felt, and the resistance is similar to your average keyboard.\ Although many people find them just fine for gaming, some don't like the fact that the release point is above the actuation point. This can cause some trouble with double-tapping. This is usually the case with someone who has experienced other mechanical switches before hand.
Type: Tactile Switch Tactile: Yes Clicky: No Actuation Force: 55g (65G peak force) (Force Diagram) Key Travel: 2mm to actuation, 4mm to bottom Cherry MX Clear switches have often been called "stiffer browns" though some users note that they have more of a tactile feel than browns do. This really can be a subjective topic, though this is another switch that could be considered "balanced." The force required is comparable to most rubber dome keyboards, with a nice tactile feedback to tell you the key has actuated. These switches are harder to find on keyboards.
Before we launched this buy page, we had a couple prototypes built. We documented the build process to help you when it comes time to assemble your own kit. Here is a link to our instruction manual. It takes you from soldering the first diode to flashing the most recent firmware so hopefully you'll have a good time putting this together. Here is a link to our step by step build guide:
https://www.massdrop.com/dox-ergo.php
As for quality control, we've done a few things to help make sure that everything goes smoothly for this kit. We'll be including a few extra switches, diodes, extra LEDs, and resistors all for free. We've also built our own keyboard (check out the video below) and made sure that everything fits smoothly and is working properly. That said, this is a DIY kit so we can only help replace parts that are faulty upon arrival (so inspect your kit as soon as you get it). We'll also be sure to take care of all European and Asian users in the case of any issue - don't worry, we'll cover the shipping.
Our parts are sourced locally, but we ship globally. These kits will ship to all countries at very affordable rates. Shipping to the USA is free. Shipping to Canada will be $14.99 and shipping anywhere else in the world will be $24.99. We'll do everything possible to make the fulfillment go quickly. However, there is a global shortage of Cherry MX switches and as such, it might take a significant amount of time to receive all the switches in our order. Those customers who ordered first will be given priority in the case of a shortage.
This group buy is no longer available! We can remind you when the group buys is back on:
Request
2225 users requested this product
---
---