To get the most out of your top of the line headphones or inner ear monitors, you need more than just the audio jack on your iPod or computer. Bringing full power to your phones for full performance, the JDS Labs C5 Headphone Amp gives you a clean, balanced attack with multiple customization options. For even higher source performance, we are also offering the C5D Headphone Amp and DAC combination.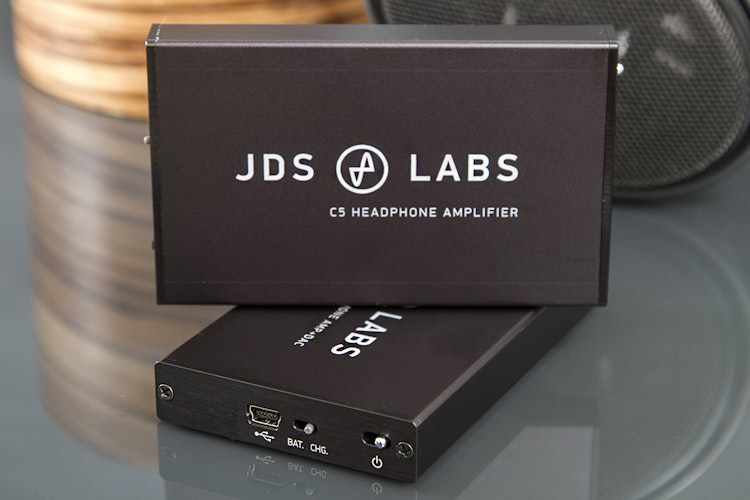 Running off clean power, the C5 features TPS7A4700 and TPS7A3301 regulators that achieve a constant output of +/- 7 V for minimal distortion. The internal signal path is purely resistive for reference quality THD and frequency response performance. If you need to alter the sound, dual gain levels and a multi-position bass boost toggle allow you to change settings on the fly. As for the volume adjustment, the digital stepped attenuation in single decibel intervals results in smooth volume control at all levels, even with your sensitive monitors.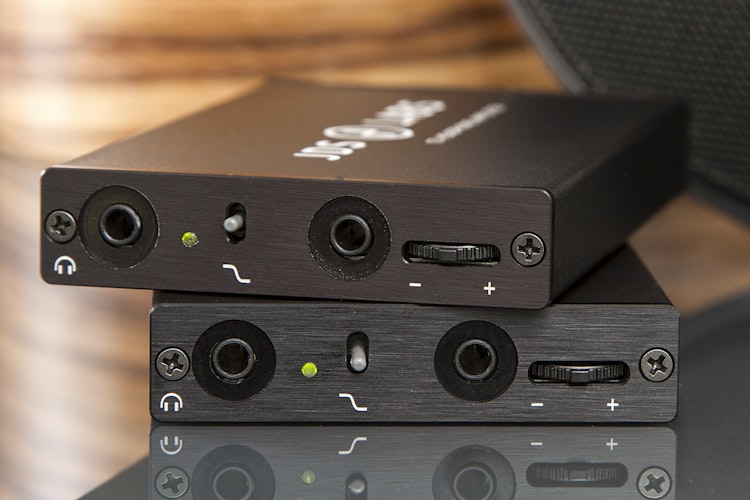 Operating from a 1200 mAh Li-Ion battery, the C5 charges in 2-4 hours and runs for 11-14 hours. The C5D adds an asynchronous DAC, charges in the same time, and runs for 7-12 hours. In addition to amplification, the C5D converts your digital audio to an optimal 2V line-level output. Operable with Apple iOS7 devices and all UAC1 compatible operating systems,the C5D boasts ultra low jitter and impedance, resulting in natural frequency response with all headphones.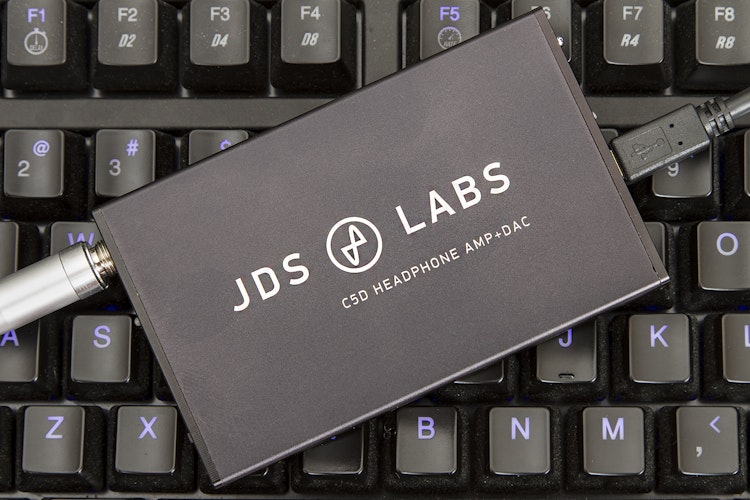 Brand- JDS Labs
Digital stepped attenuation- 63 steps + mute
Dual gain- 2.3x and 6.5x
Bass boost- Off, Medium, and High
Low battery indicator at 20 minutes remaining
Thin film resistors with 0.1% tolerance
1200 mAh, 3.17 V Li-Ion battery
1/8 in (3.5 mm) input and output
USB charging
Battery run time- 11-14 hours (7-12 hours on C5D)
Charge time- 2-4 hours
Weight- 4.2 oz (119.07 g)
Dimensions- 3.92 x 2.42 x 0.55 in (99.5 x 61.5 x 14.0 mm)
Amplifier Performance (C5 and C5D)
Frequency response- +/- 0.1 dB (20 Hz - 20 kHz)
THD+N (20 - 20 kHz, 150 Ohm)- 0.0015%
THD+N (20 - 20 kHz, 32 Ohm)- 0.0045%
Noise- -105 dBu
Crosstalk @ 150 Ohm- -67 dB
Inter-channel phase @ 1 kHz- +/- 0.01°
Channel balance- +/- 0.55 dB, all volume positions
Max output @ 600 Ohms- 4.146 VRMS
Max output @ 150 Ohms- 3.580 VRMS
Max output @ 32 Ohms- 1.182 VRMS
Power supply- 14.0 V
Output impedance- 0.62 Ohms
DAC Performance (C5D Only)
Frequency response- +/- 0.14 dB
THD+N @ 100 Hz- 0.0014%
THD+N @ 20 Hz- 0.0015%
THD+N 10 kHz- 0.0025%
IMD CCIF 19/20 Khz- 0.0015%
Noise A-weighted- -103 dBu
Dynamic Range- > 109 dB A-weighted
Linearity error @ -90 dBFS 24/96- 0.2 dB
Crosstalk @ -10 dBFS- -80 dB
Sum of jitter components @ 11025 Hz- -112 dB
Maximum output line out @ 100k- 2.0 VRMS
Supported audio formats- 16/44, 16/48, 16/88, 16/96, 24/44, 24/48, 24/88, 24/96
Interface- USB, Audio Class 1
Native driver OS support- Windows XP or later, OS X x86, Linux, iOS 7
USB 2.0 Mini B cable
Rubber bumper feet
Instructions sheet
Domestic and international orders will be shipped by JDS Labs.
Estimated time until product ships: 10 business days after the drop end date.