Note: This is an item in our special Bazaar event. Each time we run a drop, we order a few extra units to account for lost shipments, missed payments, or late cancellations. To thank you for your continued support, we're making these available to you with faster shipping. As a result, unlike a typical drop, your payment method will be charged immediately, with all sales final.
The KBT Pure Pro is a compact mechanical keyboard with real-time macro programming and a full arrowkey set. Available first on Massdrop. These will ship with QWERTY printed grey PBT keycaps (The grey blank keycaps with the lettering like you see on the black keycaps)
PRODUCT DESCRIPTION
The KBT Pure Pro uses mechanical key switches made by a German company called Cherry Corp. Cherry makes a variety of switches and each of them produces a unique and enjoyable typing experience. You'll be able to choose between Cherry Red, Blue, Brown, or Black switches at checkout. [Click here for more info on the individual switch types][Oh God Please No More Info]

*Cherry MX Black Switches* Type: Linear Switch Tactile: No Clicky: No Actuation Force: 60g (40g-80g overall) Key Travel: 2mm to actuation, 4mm to bottom Cherry MX-Black switches are linear (non-tactile) switches, these are considered one of the best switch types for gaming. When gaming, having a tactile bump does absolutely nothing because you're going to be bottoming out anyway. So these give you a very smooth feel. The actuation and release points are at the exact same position as well. So games that require a lot of double tapping become easier than on any other keyswitch. However, most people don't enjoy typing on them that much do in part, to their linear nature. If you're a person who tends to hit a wrong key every so often while gaming, these will be beneficial in that the high actuation force will help prevent many of those accidental presses.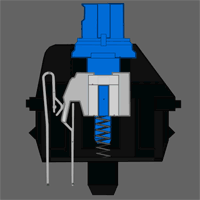 *Cherry MX Blue Switches* Type: Tactile & Clicky Switch Tactile: Yes, precise Clicky: Yes Actuation Force: 50g (60g Peak Force) Cherry MX Blue switches are the best cherry switch for typing. The tactile bump can easily be felt, and the resistance is similar to your average keyboard. Although many people find them just fine for gaming, some don't like the fact that the release point is above the actuation point. This can cause some trouble with double-tapping. This is usually the case with someone who has experienced other mechanical switches before hand.
*Cherry MX Red Switches* Type: Linear Switch Tactile: No Clicky: No Actuation Force: 45g (Force Diagram) Key Travel: 2mm to actuation, 4mm to bottom Cherry MX-Red's are another switch that can be considered a "gaming" switch. It's essentially a lighter version of the MX Black, requiring less force to actuate. Some people do not find this switch that good for typing or gaming because it is so light, but others rave for this fact. Light or Stiff is always a matter of preference. This switch was hard to find; and was reported as EOL, but it is still in limited production with a higher than average MOQ leading to higher cost to board makers. Marketed with high demand, boards with this switch are becoming more common, but are generally more expensive as well.
*Cherry MX Brown Switches* Type: Tactile Switch Link: Datasheet Tactile: Yes Clicky: No Actuation Force: 45g (55g Peak Force) (Force Diagram) Key Travel: 2mm to actuation, 4mm to bottom Cherry MX Brown switches are considered a middle ground between typing and "gaming" switches. They have a light, tactile feel half way through the key press that lets you know the switch has activated. This gives you an indication of what you can release the switch. The switch is considered a middle ground because the reset point & actuation point are close enough together than you can "float" at that point, enabling you to double tap faster. As a note: this switch actually has a peak force of 55G, it is 45G at the point of actuation. This is due to the design of the Cherry switch itself. All credit for these awesome animations goes to Lethal Squirrel on Geekhack. The KBT Pure Pro is about 40% smaller than a normal keyboard (67 keys total) without sacrificing any functionality. All the extra keys like Page Up, and the function row are accessible on a secondary function layer. Hold down the FN key and "9" becomes "F9", "I" becomes "Insert", etc.
Customization
This keyboard is fully programmable via hardware so there's no software to install, just plug it in and start building macros. Since all of the programming happens on the keyboard, you can plug it into any computer and take your custom layouts wherever you go. Here's a quick example. Say you want a button that duplicates a selected row of text. You could map the left ALT key to do Ctrl + C, .1 second delay, Ctrl + V. You'd do that by holding down the Fn key, pressing Rt Ctrl (this drops you into programming mode), then pressing ALT followed by Ctrl + C, Fn + G, Right Arrow, Space, Ctrl + V, the Pn key to finish it. Now, you can press Fn + Right Shift to put yourself into the programmed layer and every time you hit Alt, you'll copy and paste whatever material you've got selected. In addition to all the programming, there are four DIP switches on the back. The first one swaps Caps lock for Fn, the second swaps Right Control with Tilde, the third switch is a place holder, and the fourth switch locks the programmable layer.
SPECIFICATIONS
Unique 67-key Layout
Cherry MX Switches
Printed Grey PBT Keycaps
Hardware Programmable with Macro Capability
USB Mini Connector
This group buy is no longer available! When there are enough requests, the product will be relaunched:
Request
0 users have requested this product.