Beautiful Handmade Wallets
The design for the One Star Leather Four Pocket Vertical Wallet incorporates two card pockets, two oversized pockets behind fit folded bills, cards, business cards, receipts, etc. Partially open at top means back pockets are easier to access: no origami necessary to get bills to slide in easily. Receipts can be half tucked away into one of the back pockets and then you can simply fold the wallet shut and deal with the receipt when you get home - again, no crazy folding necessary.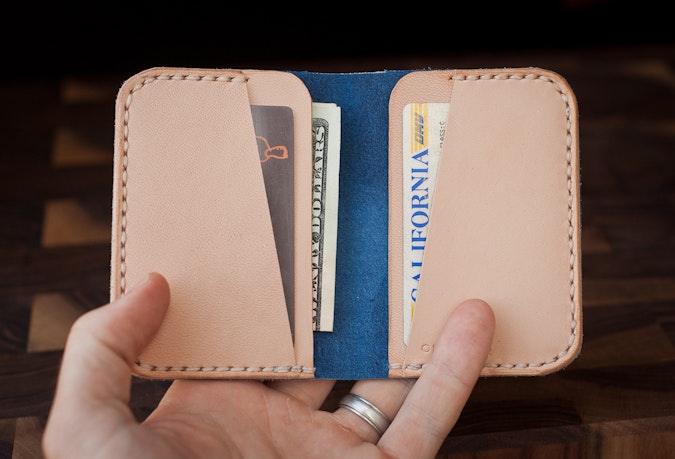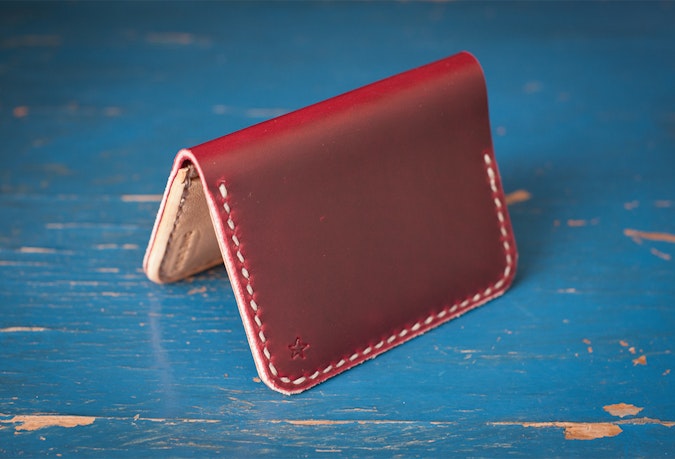 This is a quote from One Star Leather about build quality and process. "I personally design, hand cut, hand stitch and hand finish all my products from start to completion. No employees, no sewing machines, no cut corners. This is a genuine 100% made-in-the-USA handmade product; just one dude with an obsession for detail and beautiful design, working out of his home in California."
One Star Leather uses only the highest quality leathers. For the red, navy, black and brown the leather is Horween Chromexcel. Horween has been tanning exquisite leather in Chicago Illinois since 1905. To quote Horween's official blog "Chromexcel, or CXL as it's written in the building, is a combination tanned leather that undergoes at least 89 separate processes taking 28 working days and utilizing all 5 floors of our facility." If you could physically manifest pure confidence, manliness, and dependability, the resulting substance would be almost as desirable as Horween Chromexcel leather. The natural leather is a vegetable tanned hide from Hermann Oak, founded 1881, in St. Louis. The natural leather will change color over time to a darker tan. That coloration should be worn as a badge of pride.
You will be able to choose between different colors for the exterior, interior, and thread of the wallet. For the exterior, you will be able to choose from black, chocolate brown, cognac, navy, red, and natural tan. For the interior your choices are natural tan, tan, chestnut, british, brown, or black. You will also be able to choose your thread color. Thread colors include: black, grey, brown, golden brown, red, orange, yellow, and natural.
One Star Leather makes all wallets to order. Estimated production rate is about ten wallets per week after the materials arrive from Chicago. The first orders placed will be the first orders fulfilled, as we did with the keyboards.
Why can't I see the price?
Massdrop
helps you
buy as a group
to get the best prices on the things you want.
As a result, products we sell have a substantial discount which we are forbidden from displaying publicly. Keeping our site private allows us to negotiate more effectively with vendors on your behalf.