Suggested by Greywind in the poll: Cooperative Board Games
Transport yourself back to a simpler time, when damsels in distress and fearsome dragons ruled the land! Shadows Over Camelot tests your courage and your chivalry, beckoning only the most doughty of players to come to the aid of King Arthur and his court. You'll take on heroic quests, like defeating the Black Knight or hunting down the Holy Grail, working together with your fellow Knights to bring glory back to Camelot.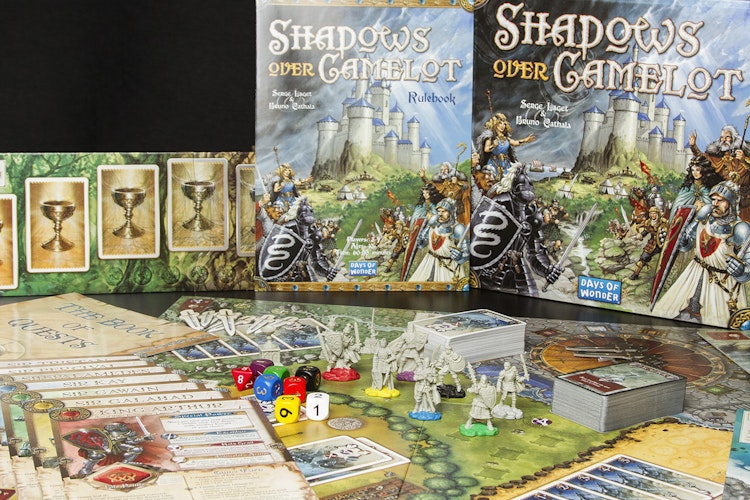 Shadows Over Camelot is a cooperative, hand management game for up to seven players, each of whom will become a Knight of the Round Table, completing quests in an effort to save Camelot from its doom.

Succeed in your quests and place a white sword on the Round Table. Fail, and a black sword or siege engine will take its place around Camelot's walls. Win by gathering enough white swords before Camelot falls. But beware! One of your brethren is a traitor, biding his time and sabotaging your efforts.
In addition to the main board and its accompanying quests, Shadows Over Camelot also comes with three additional quests: the Holy Grail, Excalibur and Lancelot & the Dragon. Put away your childhood copy of Monopoly and start playing board games worthy of knights. Camelot awaits!
Game board with its surrounding Quests
3 additional double-sided Quests (the Holy Grail, Excalibur and Lancelot & the Dragon)
Cards, Coat of Arms and miniatures
7 standard dice, one 8-sided die for the Siege Engines
Domestic and international orders will be shipped through the Massdrop fulfillment center.
Estimated time until product ships: 10 business days after the drop end date.
Why can't I see the price?
Massdrop
helps you
buy as a group
to get the best prices on the things you want.
As a result, products we sell have a substantial discount which we are forbidden from displaying publicly. Keeping our site private allows us to negotiate more effectively with vendors on your behalf.