Suggested by Azteca in the poll: Truly Ergonomic Mechanical Keyboard
Ergonomic and Space Efficient
The Truly Ergonomic Keyboard Model 209 (TEK) is a first-class keyboard designed to provide an exceptionally comfortable typing experience, and is manufactured using Cherry Key switches. Brown, Red, and Blue switches are all available as options during checkout.
The TEK is a critical upgrade from traditional keyboard designs. For well over a century, keyboards have been based on the 'rows of staggered keys' arrangement introduced in typewriters in the 1860s. Improving on that, the TEK is symmetric and features a unique linear, non-staggered, split-symmetric columnar key arrangement that aligns effortlessly with the user.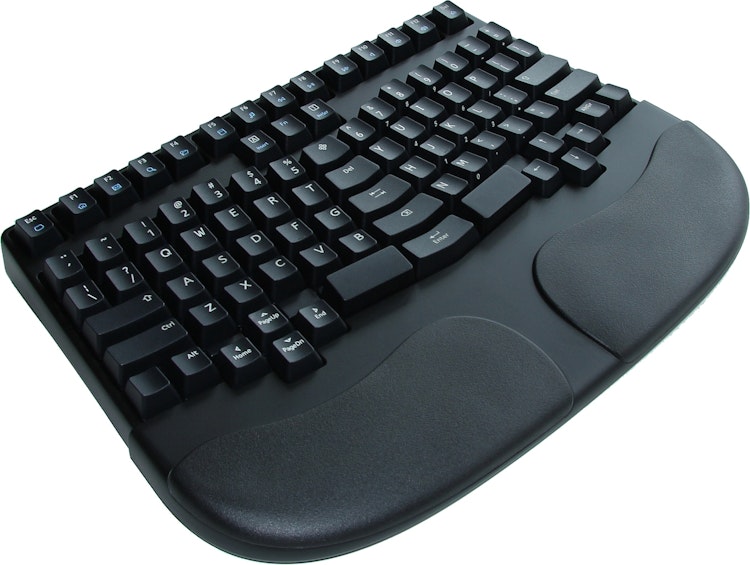 We have designed the TEK for comfort and productivity. It has been developed specifically to reduce pain and avoid injuries caused by typing, and its revolutionary key layout improves typing efficiency. The TEK also helps diminish the risk of work-related conditions like CTS, RSI, and tendonitis, and its compact design helps reduce strain caused by stretching for the mouse.

The TEK design follows the symmetric shape and neutral position of the human body. Promotes a healthier posture helping to reduce wrist, shoulder, neck, and lower back pain and strains, and allows you to become more efficient and accelerate your productivity in a comfortable and healthy manner.

Unique split-symmetric columnar key arrangement. Follows the symmetric shape and neutral position of the human body. Helps type with straighter wrists reducing wrist and lower-back pain, as well as diminish the risk of work-related conditions like CTS/RSI and tendonitis. Manufactured using High-Quality German-Engineered Gold-Plated Cherry MX Mechanical Keyswitches. These keyswitches feature an independent mechanism for each key (a feature not present on conventional keyboards), can provide a gentle tactile feedback being very kind to user's hands, and have a life expectancy and preserve their tactile feel for more than 50 million keystrokes - expected to last more than 10 times longer than other keyboards.
Small footprint that includes 100% of standard keys in 60% of the space, using full-size keycaps in a logical and comfortable key arrangement.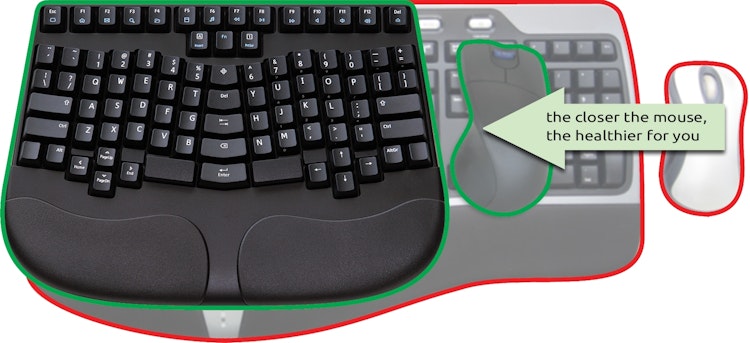 Helps keep the mouse close to the body's neutral position, reducing hand travel and stretching for the mouse, and minimizing wrist & shoulder pain.
Integrates a high-quality removable and cushioned palmrest. Firmly attached with screws for a strong build. Provides required support when needed and removing it provides an even smaller footprint.
Linear non-staggered Embedded Numeric Keypad.
Media Control Keys to help you access and play your music and videos without the need to change applications.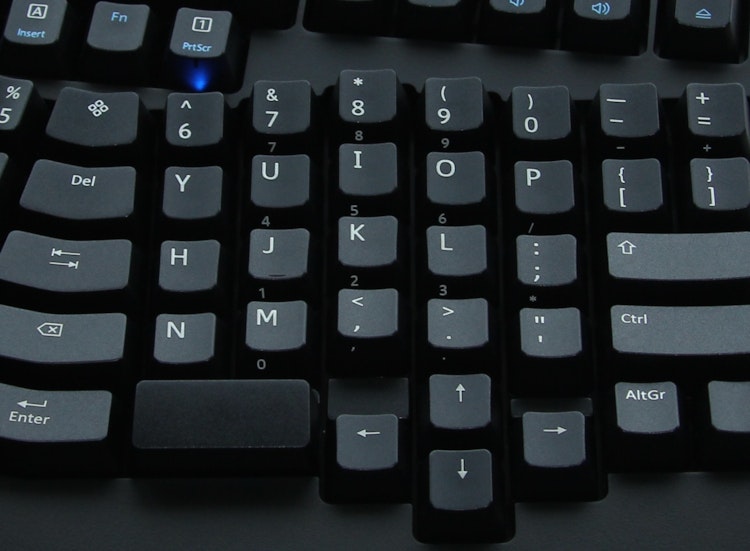 Fully programmable, allowing for uncommon and unique key configurations. You can change the logical position of any key, add logical keys, create your own custom layout, and have two distinct layouts at the same time, amongst others. Key configuration is saved internally so you can move between compatible computers without the need to install any additional software or to reprogram each time.

Full N-key rollover (NKRO). Also known as anti-ghosting; each keypress is correctly detected regardless of how many other keys (up to 6 plus modifiers) are being pressed at the same time.

Works with diverse Operating Systems including Windows, OS X, and Linux.

Short Learning Curve, where most users can type at 80% of their normal speed after the first two hours, and type at full speed within two weeks of using their Truly Ergonomic Keyboard.

Did you notice? The Truly Ergonomic Keyboard is Fully programmable, allowing you to change the logical position of any key, add logical keys, and create your own custom layout, amongst others. It has the perfect combination of ergonomics and mechanical keyswitches.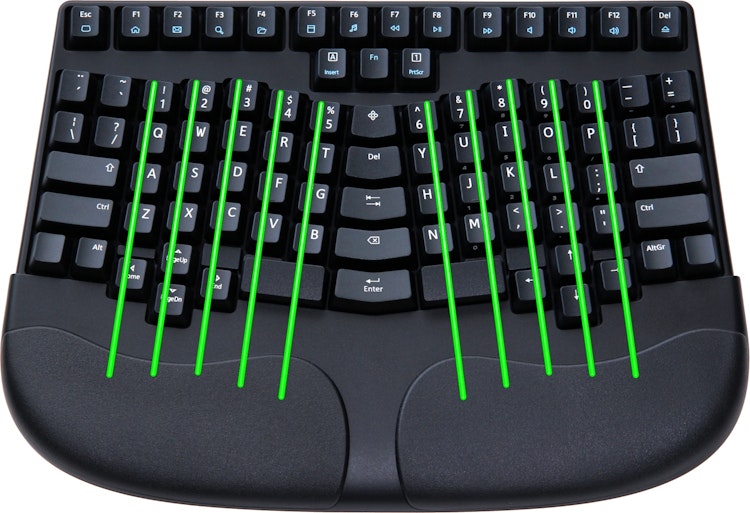 The unique Model 209 Truly Ergonomic Keyboard.
Long USB cable; 6.0 ft. (183 cm).
Dustcover to protect it from dust and mishaps when not in use.
Installation & Quick Start Guide.
Includes a 1-Year Limited Guarantee which applies to defects in materials and/or workmanship that becomes apparent during normal use.
Why can't I see the price?
Massdrop
helps you
buy as a group
to get the best prices on the things you want.
As a result, products we sell have a substantial discount which we are forbidden from displaying publicly. Keeping our site private allows us to negotiate more effectively with vendors on your behalf.