This is the Yulong Sabre DA8, a digital to analog converter and headphone amp featuring the Sabre ESS (ES9018S) DAC chipset. The ES9018S is the latest in audio signal processing with 32bit/384khz support, 32-bit Hyperstream, and a patented Time Domain Jitter Eliminator. The result is a strikingly articulate sound you won't hear from any other processor. Using the Sabre DAC as a base, Yulong has built one of the most
highly reviewed
all-in-one systems to come out in recent years.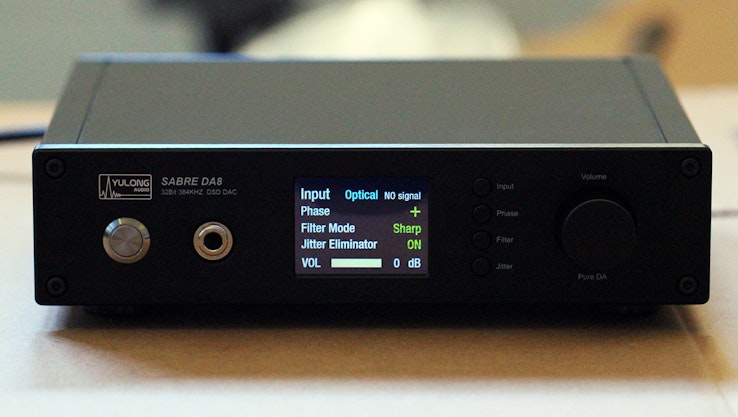 Yulong is known for many things, high build quality and relentless improvement are two of the most prominent. The Sabre DA8 is another example of how yulong is pushing the envelope of headphone audio. This CNC'd aluminum block comes with a 2.5in TFT LED Display , attenuated digital volume control, satisfying power button (a strangely uncommon feature), and anti-slip rubber feet. The sound is revealing, showing the best low frequency texture, midrange clarity, and airy highs we've heard from any source so far.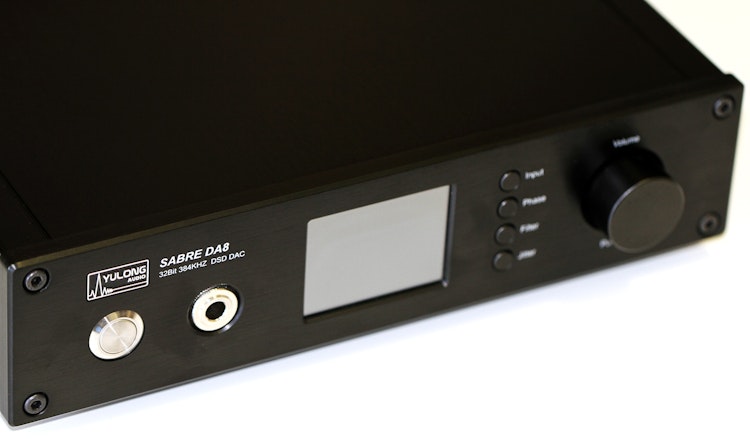 Finally, it's important to take note of the features this unit has to offer. Starting at the back we've got an adaptive power supply with replaceable fuse along with USB, Optical, AES, and Coaxial input. The DA8 has three output options, rear RCA, rear XLR balanced, and front facing 1/4" jack. The result is an incredibly versatile source able to act as both balanced and unbalanced class A headphone amp. This unit also lets you modify the output signal by changing filter modes from Sharp to Slow, inducing phase, and toggling a Jitter Eliminator. All in, this is a super versatile, tunable, headphone audio source you'll enjoy for years.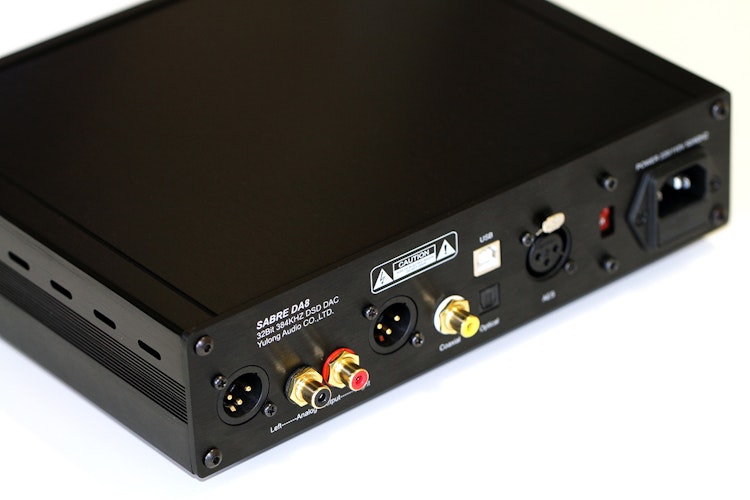 THD+N less than 0.0003%, dynamic > 130dB, Idle noise 1.5uV
USB supports 32bit, 384KHz PCM signal
DSD native support
Invertible phase
Jitter eliminator switch
High precision bandwidth-auto-set DPLL
80 step volume control
Single/Balanced pre-amplifier output
Balanced pre-amplifier output; the DA8 can be used as balanced headphone amplifier
Class A single end headphone amplifier
TFT LED display. Easy operate. 80% dim after 5 seconds
Thickened aluminum case. Aluminum button, volume knob and feet
100v-240v global voltage range
Domestic and international orders will be shipped through the Massdrop fulfillment center.
Estimated time until product ships: 10 Business Days