High Quality at a Low Cost
Sure, everyone wants a fancy pair of headphones that makes your rock and roll really resound, but how many of us can afford to drop a half grand for the privilege? Racing to the rescue, the Audio-Technica ATH-M50 with a coiled cable is the most universally recommended headphone in the neighborhood of $150 for it's versatility, sonic performance, and comfort.
Nearly every headphone has a specific, intended use. Some headphones are made to take advantage of a $5000 amp/DAC combo that never leaves your dedicated listening room. Some cans are built to be worn outside and used with just a smartphone. When you're buying entry level audiophile headphones, the real trick is finding one pair that suits all situations with equal grace. Fortunately, the large aperture 45mm drivers sound great from a phone and show significant improvement through an amp. Even better, these headphones collapse for portability and stay comfortable for hours of desktop wear.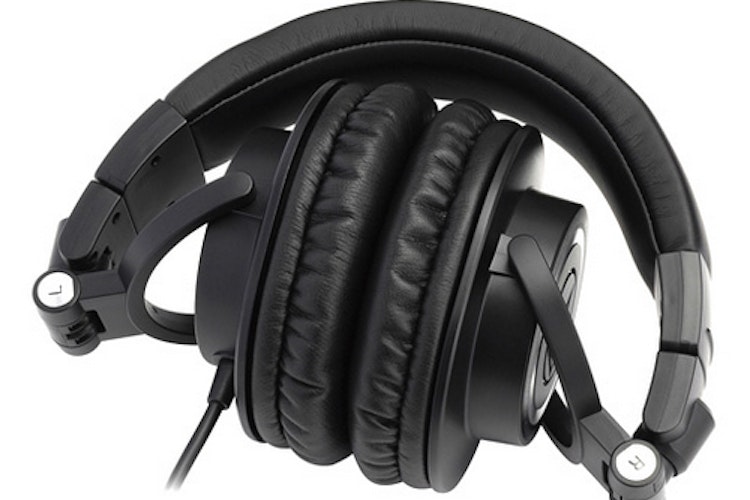 Ideal For All Audio Files
Creating even more comfort, the padded ear cushions are fully sealed for ideal isolation and can swivel 180 degrees for one-ear monitoring. On the left earpiece, the coiled cable ends in a gold-plated mini-plug that's easily adapted to fit 1/4". The ease of use, when combined with the unmatched comfort, would be enough for a proper recommendation. Luckily for you, Audio-Technica didn't stop with the structure. The sound broadcast from these babies is warm, detailed, and well balanced through all ranges. The high punch may be too much for some listeners and the bass doesn't boom heavily enough for dubstep, but the ATH-M50's are versatile enough to appease even the most discerning audiophiles.
Type: Closed-back dynamic
Driver Diameter: 45 mm
Magnet: Neodymium
Voice Coil : CCAW (Copper-clad aluminum wire)
Frequency Response: 15 - 28,000 Hz
Maximum Input Power: 1,600 mW at 1 kHz
Sensitivity : 99 dB
Impedance: 38 ohms
Weight: 284 g (10 oz) without cable and connector
Cable: 1.2 - 3.0 m (3.9' - 9.8') Coiled, OFC litz wire
Connector: Gold-plated stereo 1/8" (3.5 mm) connector with strain relief and professional screw-on 1/4" (6.3 mm) adapter
Accessory Included: Protective pouch
Domestic and international orders will be shipped by Massdrop
Estimated time until product ships: 10 business day after the drop end date.