This is the Little Dot MK IV SE audiophile headphone amp. Capable of comfortably driving everything from Denon D2000s to Beyerdynamic T1s, this amp will fill all your power based needs without inducing any additional background noise. It's important to know the MKIV SE is built on tubes from end to end. Most entry level tube amps have one set of tubes, they choose the input or the output and use tubes to condition one or the other. The MKIV SE uses four tubes organized into two sets, one for the left input, one for the right input, one for the left output, and one for the right output. The result is a pure tube sound that'll make you feel like you're floating in a silken raft on an ocean of melted chocolate.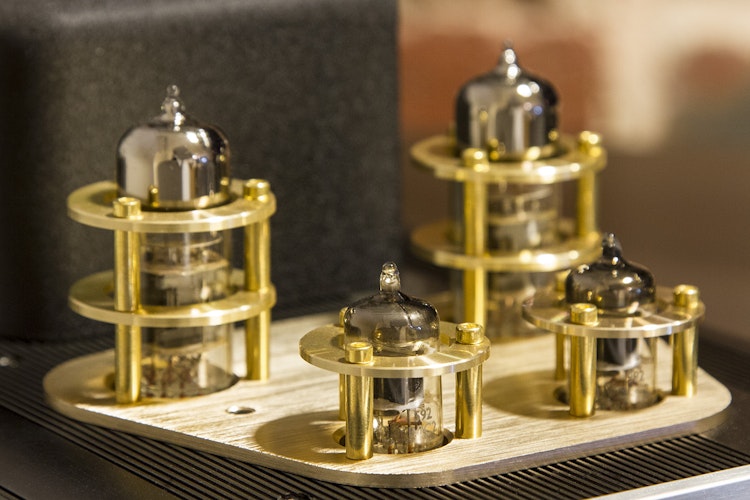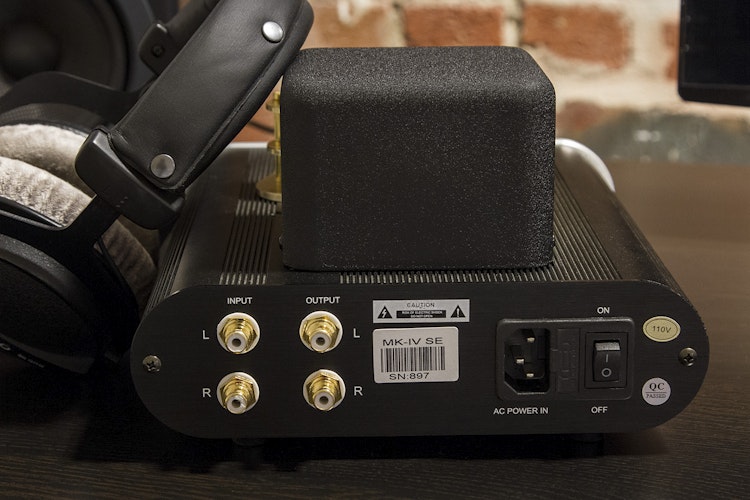 Little Dot is known for their well designed circuits and high build quality. Featuring solid metal housing, tube dampening rings, and a satisfyingly large volume knob, each part of this amp's design was thought through. In addition, the MKIV SE isn't just an amazing headphone amp. Featuring RCA output as well as headphone output, the MKIV SE will earn it's keep in any audio setup through utility as well as performance. All things considered, this is one of the best performing, most requested, and enjoyable headphone amps ever brought to massdrop.
SEPP (Singled-ended Push Pull) OTL in Class-A
Frequency response: 10 hz~100 Khz (-1dB)
THD+N: 0.1% (100 mW @ 300 ohm)
Power Output:
500 mW @ 300/600 ohm
300 mW @ 120 ohm
100 mW @ 32 ohm
Power Consumption: 30W (228V x 0.133A)
Variable Gain: 3,4,5, or 10x
Recommended Load Impedance: 32 ohm~600 ohm
Input Impedance: 50K ohms
Pre-Amplifier Output Impedance: 600 ohms
Pre-Amplifier Gain: 3-10x (also controlled via gain switches)
Pre-Amplifier Voltage: 10V RMS
Pre-Amplification circuit includes both driver and power tubes
Driver Tubes: 2x JAN 5654 (MK IV) or 2x M8100/CV4010 (MK IV SE)
Power Tubes: 2x Soviet 6H30EH (MK IV) or 2x 6H30PI Gold-Pin (MK IV SE)
High quality aluminum chassis
Neutrik Headphone Jack (SE version only)
American CMC/Van Den Hul RCA Jacks (SE version only)
Dimensions (Metric): 320mm deep by 220mm wide by 143mm high
Dimensions (English): 12.6 inches deep by 8.66 inches wide by 5.62 inches
Weight: 3.5 Kg or 7.7 lbs
1 Year Little Dot Warranty (2 Year Little Dot Warranty for MK IV SE)
Available in either 120VAC
Domestic and international orders will be shipped through the Massdrop fulfillment center.
Estimated time until product ships: 10 business days after the drop end date.
Why can't I see the price?
Massdrop
helps you
buy as a group
to get the best prices on the things you want.
As a result, products we sell have a substantial discount which we are forbidden from displaying publicly. Keeping our site private allows us to negotiate more effectively with vendors on your behalf.